So over the past week, my rank on KGS actually went up to 6k and I managed to defend it properly against a 5k. Good news right? I'm back at 7k now. (-.-) How does that happen you might wonder? Losing four straight games in a row. That's how. Haha.
You know those times where no matter what you do (whether it's fate or you just sabotaging yourself), you keep on losing? That's me right now. Haha. I've gone through four straight losses and it's been pretty pitiful.
I lost my first match to in a relatively normal way. Not on tilt quite yet, and then I decide to challenge him to a rematch. And then I get excited when I think that his group is killable, and end up losing my entire corner early on in the game. There goes my second loss.
From that point on though, it was like I was on a pure vengeful pursuit to win against him. I played him once again, and decisively won a number of key battles, and then I lose on time.
As if that weren't bad enough, I then go off and challenge another 6k. This match is going great, because he's in a killing mood too but I'm managing to outread him for most of the game… and then I failed to realize one of my sequences put a big group in atari and then everything died…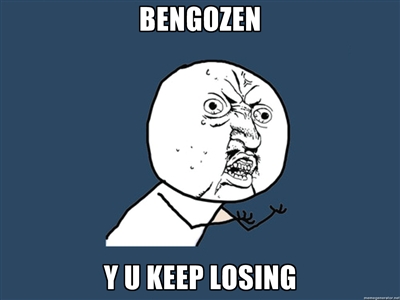 ARGHHHHHHHHHH!!!!!