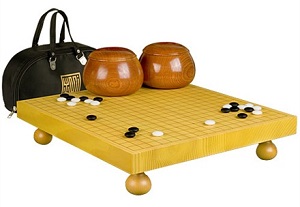 Shin-Kaya - 1-1/2" (4cm) Go Set
Overall Rating: 10 /10 Ponnuki
Highlights
This is a fantastic set that is complete with high quality yunzi stones, kitani jujube bowls, shin-kaya board, and a travel case for the bowls and stones.
A perfect set for any player interested in playing go and wants a quality set without breaking the bank.
The go board doubles as a table and floor board, so the set has even more value than simply having a floor board.
Product Description
One 2-3/8" (6cm) thick Tibet Spruce (Shin-Kaya) wood board
Made of 2-4 solid pieces of wood joined together to prevent warping over time.
Measures 18-1/4"L x 17"W x 3-3/4"H (46.5cm x 43cm x 9.7cm)
Board is 1-1/2" (4cm) thick
180 white and 181 black genuine Yunzi Go stones.
Large, double convex, size: 9.2mm tall and 21mm wide (about 3/8" x 3/4")
Two Kitani style jujube wood bowls that measure 5"W x 4"H (12.7cm x 10cm) with travel vinyl case
Detailed Review
This was my first set of real go equipment. When it arrived, I was happier than a child on a shopping spree at a toy store. And so, you can imagine how happy I was to see that my order was packaged very well. Here are some shots of the package:
Everything arrived in great condition. The only issue I had was that some of the black stones were missing from the set. So I contacted YMImports that very day, and received a response within 12 hours notifying me that they would send replacement stones. Way to live up to your reputation of great customer service YMImports!
In order to streamline the review, the different parts have been separated into their own individual reviews. You can find them at the following links:
The set as a whole is an incredible value. Unless you are looking to specifically buy a floor board, portable board, or another kind of stone (e.g., slate and shell), this the best deal that you're going to find.
Vendor
Similar Products