Introduction — Day 1 — Day 2 — Day 3 — Day 4 — Day 5 — Conclusion
Big announcement everyone! I am ecstatic to tell you about a brand new go event coming to the East coast!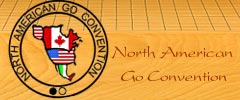 Here is a high level overview of all the exciting things you can expect:
Game review sessions with professionals!
Simultaneous games with professionals!
Lectures from professionals!
Multiple open tournaments for players of all ranks that are AGA rated and can be up to 23 rounds for kyu players and 17 rounds for dan players!
Pair Go (Rengo)
Blitz Go
Lots of awards!!!
And more more more!!!
So if you're even thinking about possibly going, go ahead and pre-register here because there is no obligation to commit to anything but you will at least have your name down early on in case spots for simul games or reviews from pros become unavailable due to high demand (which you know is inevitable). So don't hesitate and hurry up and go pre-register! I'm already pre-registered for Gold Access in DC, but I'd also be open to going to NJ as well if given enough persuasion!
If you are going, be sure to let me know because I'll definitely be there! Ahhhhh!!!! So exciting!!!!
Introduction — Day 1 — Day 2 — Day 3 — Day 4 — Day 5 — Conclusion