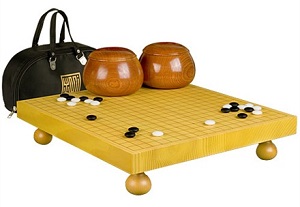 Shin-Kaya - 1-1/2" (4cm) Go Set
Overall Rating: 10 /10 Ponnuki
Highlights
This is a fantastic set that is complete with high quality yunzi stones, kitani jujube bowls, shin-kaya board, and a travel case for the bowls and stones.
A perfect set for any player interested in playing go and wants a quality set without breaking the bank.
The go board doubles as a table and floor board, so the set has even more value than simply having a floor board.
Product Description
One 2-3/8" (6cm) thick Tibet Spruce (Shin-Kaya) wood board
Made of 2-4 solid pieces of wood joined together to prevent warping over time.
Measures 18-1/4"L x 17"W x 3-3/4"H (46.5cm x 43cm x 9.7cm)
Board is 1-1/2" (4cm) thick
180 white and 181 black genuine Yunzi Go stones.
Large, double convex, size: 9.2mm tall and 21mm wide (about 3/8" x 3/4")
Two Kitani style jujube wood bowls that measure 5"W x 4"H (12.7cm x 10cm) with travel vinyl case