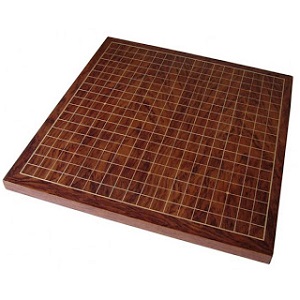 Reversible "Rosewood" Go Board
Over­all Rat­ing: 2 / 10 Ponnuki
High­lights
If by rosewood they mean a cheap knock-off layer of "wanna-be" rosewood and then layered by cheap wood, then they accomplished their job.
Although the lines look semi-elegant in the product image, it ended up looking rather cheap and hard to see on the board.
DO NOT PURCHASE THIS BOARD!
Prod­uct Details (What They Claim)
One 48cm x 52cm x 3cm reversible board (19x19 Go and Chinese Chess).
"Exquisite and unique Chinese chess board made of solid rosewood inlaid with wooden lines."
Weight: 5kg.