Prelude - I - II - III - IV - V - VI - VII - Conclusion
When I woke up, I sat in silence for a while as I thought about what I was going to do. Although some would simply shrug off the forfeit and continue playing in the tournament, I couldn't stand the idea of continuing in the tournament. And with my brother in town and my girlfriend coming up to visit the second half of the trip, my mind was made up.
When I arrived at Hotel Pennsylvania, I went and officially withdrew myself from the tournament. I know that this decision might not sit well with some of you, but it was really the best decision for me as a whole. While it would have been great to have played in the tournament, withdrawing from the tournament freed up my schedule to spend time with my brother (and girlfriend eventually) while also allowing me the freedom to do whatever I wanted (i.e., spending time with professionals).
Anyhow, I then entered the tournament room to see if anyone was up and around. As I walked around, I found Diego and Gurujeet in the middle of an intense game.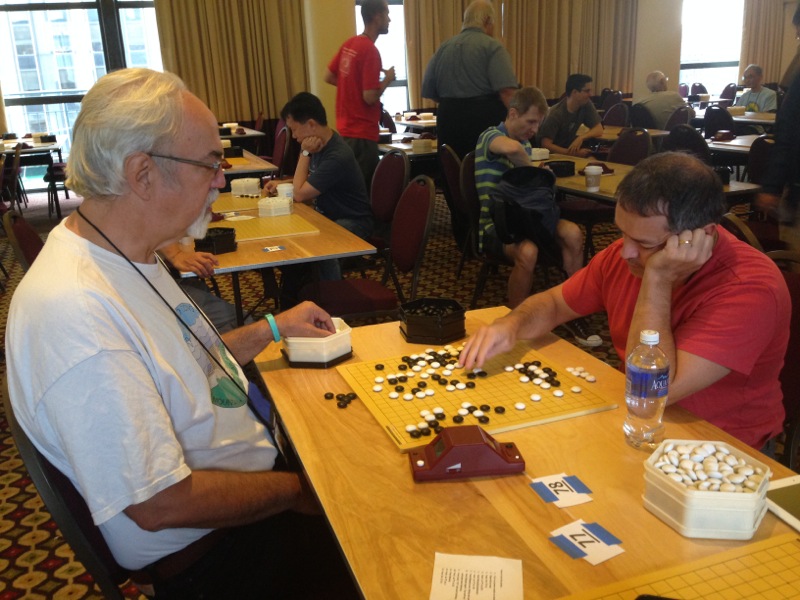 I vaguely remember catching Nate and Michael before the round started and wishing them the best of luck. And before I left, I went ahead and signed up for three simuls that day. After all, I could play in tournaments anytime I wanted back at home, it's the professionals that made Congress as epic as it is.