Yesterday, I had the pleasure of attending another one of Yuan Zhou's Monthly Workshops!
We started off with a life and death problem that is called "hunting the 6 stone bird." Apparently it's a very old problem that has been around for a long time, for those wondering what the shape looks like. For those who would like to try it out for themselves, here it is below: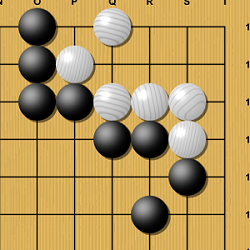 Afterwards, I got to hear a very captivating review for one of Lee Changho 9p Vs. Park Junghwan 9p games in the most recent Ing Cup World Go Championship. It was one that was full of full of suspense, excitement, and a capturing battle on epic proportions that made Park Junghwan the decisive victor.
As I listened to Yuan Zhou review the game, there were a few things that really struck me: